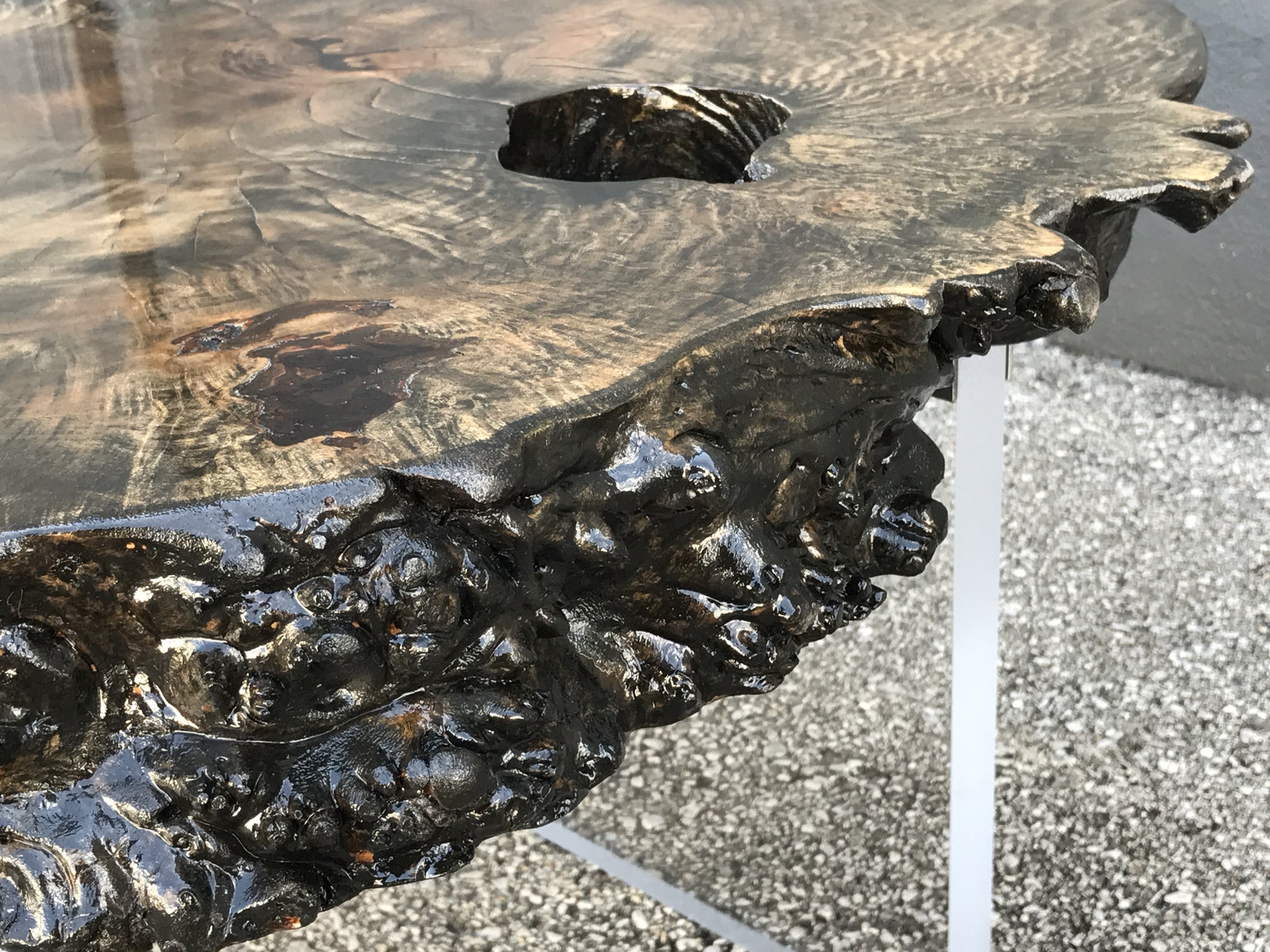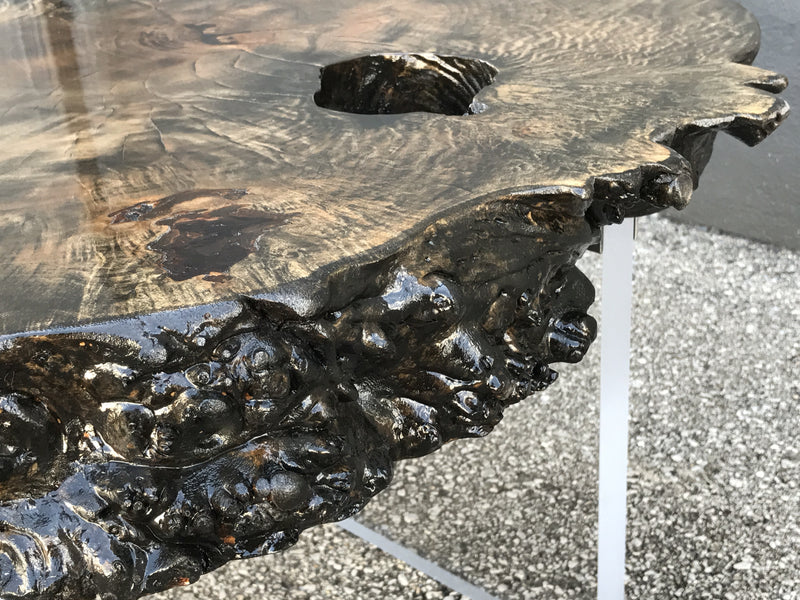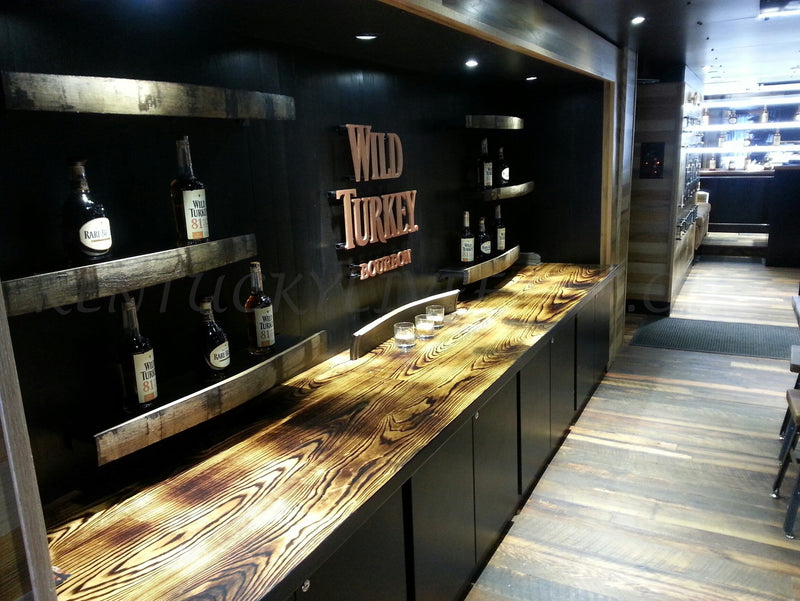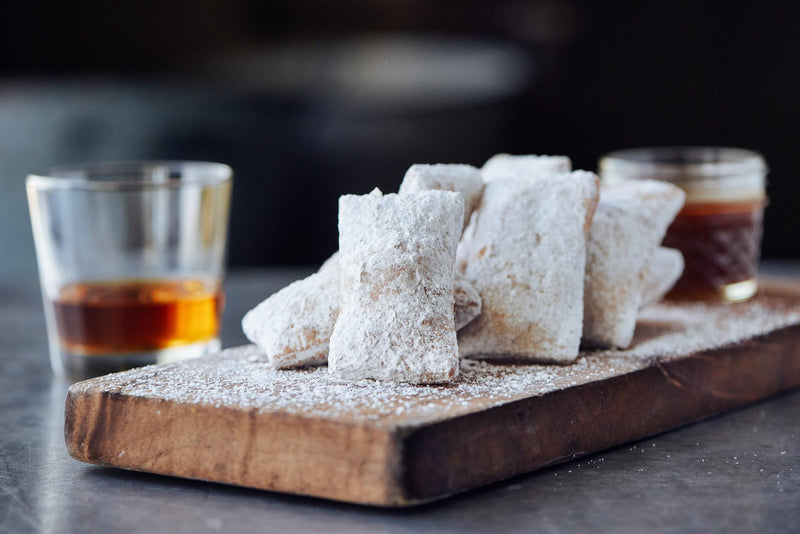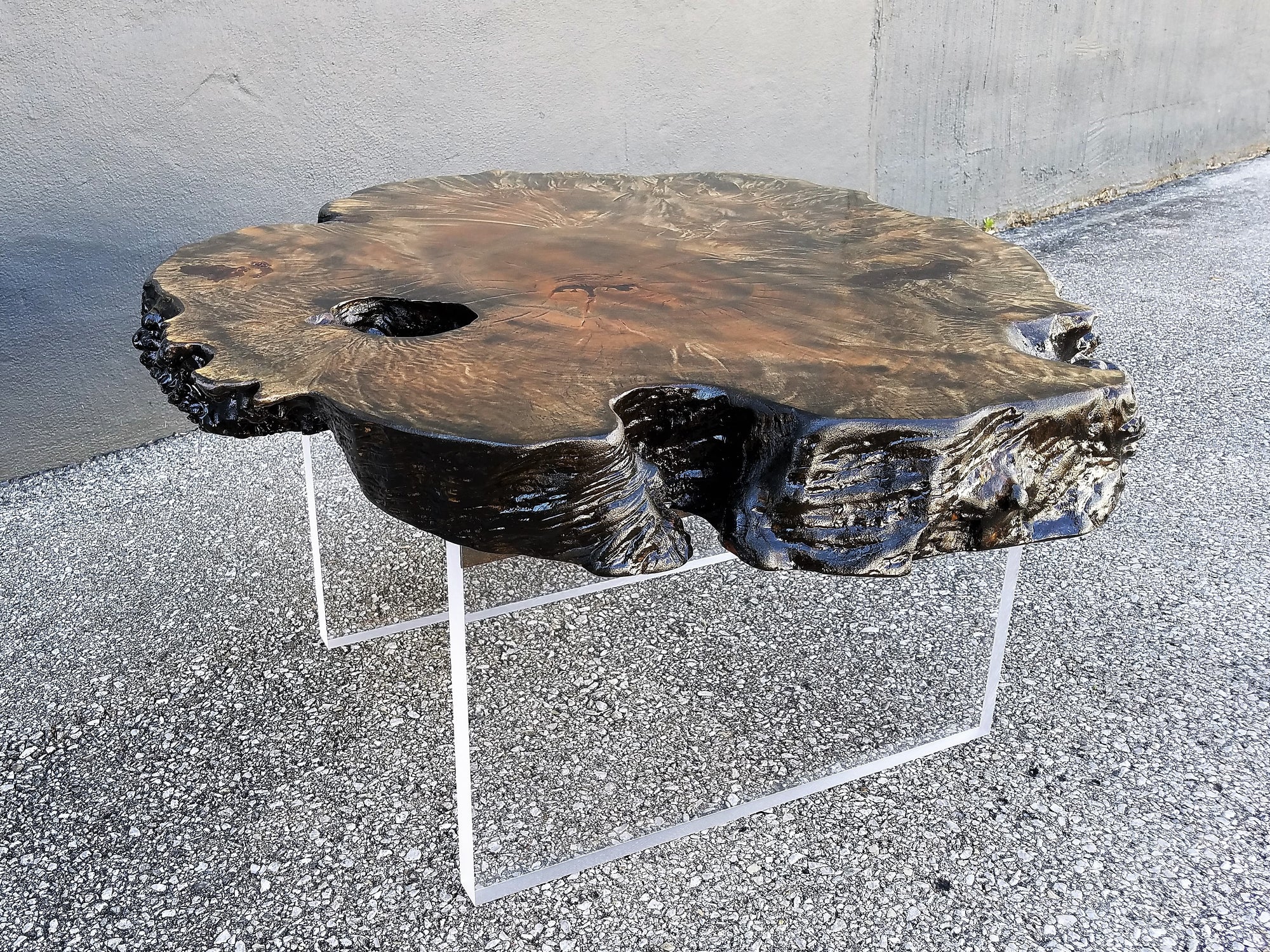 Live Edge Furniture and Design
Welcome to Kentucky LiveEdge! My name is Drew Gahafer. I focus on creating quality live edge furniture; dining tables, conference tables, coffee tables, sofa tables, console tables, end tables, tabletops, desks, bar tops, benches, cutting boards, charcuterie boards, plant stands, shelves, mantels and stylistic home goods.  Producing functional pieces of art, one slab at a time. Looking for something you don't see? Contact me to discuss your custom build.
Reviews
We purchased a walnut coffee table from Kentucky LiveEdge. The craftsmanship is superb and Drew really brings out the natural beauty of the wood. The table has a very dynamic feel and is a wonderful addition to our home. We love that Drew uses reclaimed wood and that he is careful about choosing the right wood for each piece. Everything is handmade in his shop with care and skill. We know because we saw his shop. This is a true Kentucky product not a mass produced piece of furniture. Plus, he is a great person to work with. We will definitely recommend Kentucky LiveEdge and hope to buy a custom piece in the future.
I cannot say enough wonderful things about Kentucky Live Edge. The service, quality, and craftsmanship are equally all superior. My custom ordered live edge table is better than I could have imagined. Not to mention the communication throughout the process with Drew was thorough and always timely. Drew did an impeccable job of explaining the process and guiding me through the process. I would highly recommend Drew / Kentucky Live Edge to any friend or family member. My table is truly a piece of art that WOWs everyone!
I just received my order from Kentucky Live Edge and WOW!! The pieces far exceeded my expectations. I had custom charcuterie boards made for our restaurant in Napa California. Drew was a pleasure to work with and you can see his love for his craft in his work. Thanks!!
Quality craftsmanship and materials. Expertly packaged for safe shipping. Highly recommend!
The best experience with Kentucky Live Edge! If you want great customer service and beautiful handmade furniture look no further. We will buy again and again!
First and foremost, our new coffee table is beautiful, and exactly what my husband and I envisioned. Drew created a truly artful piece of furniture. His craftsmanship is unparalleled. Aside from the gorgeous table that is now the focal point of our living room, Drew is a professional, running his business with the same care and attention to detail that go into his works. If you are dreaming of something that you just haven't found at a typical retailer, work with Kentucky Live Edge. You will have an amazing experience from design to shipping!
It's uncommon these days to find a young professional who cares for his craft and the customer's experience. Drew delivered on both with my desk project. From the initial meeting, the countless questions, the consistent progress updates (with photos) to the finished product...Drew wildly exceeded my expectations. If you want average, go elsewhere. If you want your expectations exceeded, go see Drew.
Our table is truly a work of art!!!! Drew worked with us to create exactly what we wanted, and was extremely patient with us through the process. We couldn't be happier with how it turned out! We plan to order more from Kentucky LiveEdge and would recommend Drew's work to anyone!!!
The table is even more gorgeous in person! Shipped extremely fast. Easy to assemble and instructions were clear. Love our new coffee table!
I can't say enough about Drew's craftsmanship and artistry. After purchasing a live-edge walnut dining table from Drew, I asked if he could make a live-edge desk for my husband's new office. Again, Drew did an amazing job and we love it! If you want a custom piece, you can't go wrong with Kentucky Live Edge. Drew is meticulous, has great attention to detail, and is so much fun to work with. Throughout the process he gave us updates and progress shots. We love seeing how his pieces add a personal touch to each person's home, no matter their style. We couldn't be more pleased with the process and the outcome.
We have no words to describe how happy and thrilled we are with our purchase. Beyond our expectations, highly recommend Drew he is truly an artist! He always responded to our questions fast and it was done in the time frame he said. Thank you so much!! We love it!
After looking for months for the right person to make our new live edge dining table, we found Drew. He was a pleasure to work with--responsive, extremely knowledgeable, and he found just what we wanted. The finished product is simply magnificent. It's a showpiece, but also durable and functional. Drew also went to great lengths, above and beyond, to help us with delivery. A great guy with great skills--he deserves many more stars. Don't hesitate to order from him!  
The Goods: furniture . home . kitchen . office
The Truth About Wood- Brief Disclaimer
  Wood is a hygroscopic material. This means it retains or releases moisture based upon the environment it is in. This process creates actual movement of the wood, usually based off of relative humidity and or heat. This movement is best noted seasonally with expansion and contraction. The seasonal expansion and contraction occurs tangential (across the wood grains/ width) of a live edge slab. Such movement can create drying checks (cracks), twisting, warping, cupping, etc. Drying checks are a natural feature of live edge slabs that are considered character and not flaws. Epoxy-resin fills and hand-carved inlays used to fill in or restrict current drying checks from expanding usually do their job, but this is not to say that lifting or expansion may not occur over time. Wood is a natural product and will do what it wants under certain circumstances, no matter the lengthy amount of thought and prep work put into the raw material or build, nor the care taken by the end user. Below are steps we take to create the best quality products possible, along with a few things for our clients to consider regarding caring for their new purchases.
  The best way to negate the above scenarios is by properly drying the wood prior to use. For this reason, all wood used by Kentucky LiveEdge has been air-dried and kiln-dried prior to being welcomed into the shop. After the finishing process, each piece is stored in a climate controlled space before being professionally packaged & shipped to its final home. From this point, it is the new owner that is responsible for creating an ideal environment for their new piece and completely out of the control of Kentucky LiveEdge LLC. A full disclaimer can be found under "Terms of Use," at time of checkout.
Furniture- Upon arrival of your new piece, let it relax in your home a few days prior to setup. As crazy as this sounds, this time will allow your new piece of furniture to acclimate to its new environment and find its equilibrium prior to being setup/ attached to legs or bases. This wait time is similar to the introduction of new wooden flooring in a home or business. A reputable flooring company would not just bring in the flooring and begin installing it the same day, instead they would drop it off for a few days and allow the wood to acclimate to its new environment. Keep in mind, flooring usually consists of 2"-5" wide pieces of wood. Imagine the importance of acclimation for something 24"-60" in width (remember wood moves across the grain)! Same theory. No hurries, no worries!
Avoid direct sunlight, in floor heating, placing near operating fireplaces or directly beneath vents and never store in non-climate controlled spaces. It's also preferred to keep your interior space at a relative humidity level between 40%- 60%. This usually is a concern during the winter months when dry air takes over our interior spaces. Introducing some moisture into the air is a good thing for your wooden products (and your health as well)! Lastly, do not use any harsh chemicals or abrasives on your new piece. Feel free to contact us for recommendations on cleaning products.
Food-safe/ Oil Finishes- Same as above regarding relative humidity, heat and direct sunlight. Avoid placing in a dishwasher, dry as soon as possible and never submerge in water.
*The above tidbit of knowledge should help relay the love and thought put into our products and prepare the end user on how to best care for their new purchases. A great deal of time, effort, thought, blood, sweat, tears, and resources are put into our work. We are just as invested as our clients in wanting  each piece to remain beautiful for years to come!
 Custom Furniture Lexington, KY
FAQ
CUSTOM & PERSONALIZED ORDERS:
For commissioned builds/ custom orders, we never charge packaging/shipping costs up front. It is impossible to obtain an accurate packaging/shipping quote without having the finished packaged dimensions and weight. Once your build is complete, you'll be notified of completion and sent photographs of the build. It will be handed over to my local and professional packaging partner. They will contact you either by telephone or email to make delivery arrangements. Their packaging/ shipping services can be paid either over the phone or by digital means (emailed invoice). My shipping partner is top notch and the only professional that I trust in making sure my work arrives at your home or business the same way it leaves my shop.
CARE INSTRUCTIONS:
If not already provided care instructions, please contact me or visit kentuckyliveedge.com for general care instructions.
DO YOU SELL RAW WOOD OR UNFINISHED SLABS?:
No. I can cut and finish a piece of wood for you from numerous species, in any desired dimensions, using your choice of several finishing options, but if interested in only purchasing raw materials, you will need to inquire with a commercial sawmill or lumber yard.
CAN YOU DO ENGRAVINGS?:
Unfortunately, we do not offer engraving services.
DO YOU OFFER PLANING or WOOD FLATTENING SERVICES?:
No. You will need to contact a commercial carpentry or fabrication shop for wood flattening, planing or molding services.